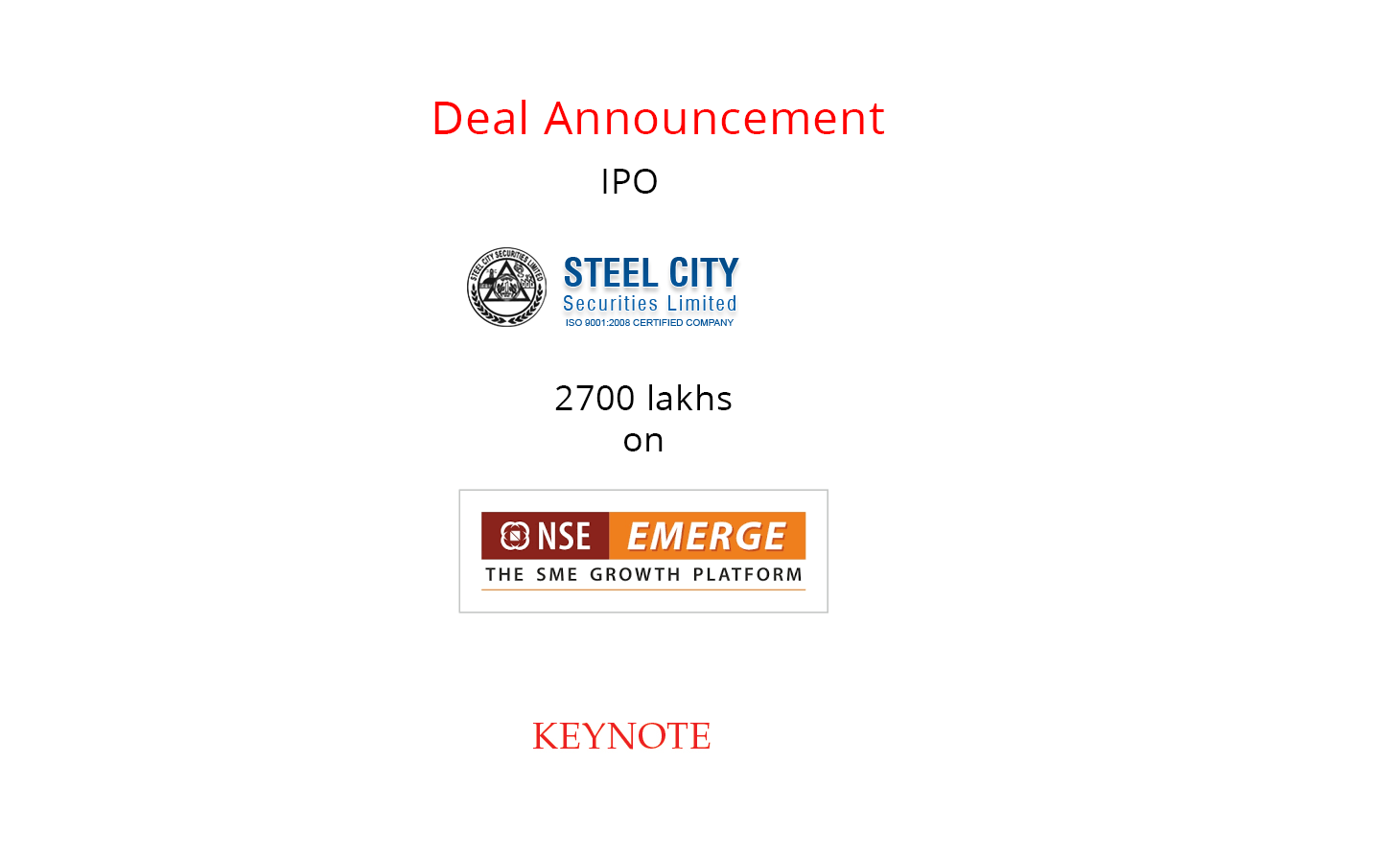 Deal Announcement: IPO of Steel City Securities Limited Oversubscribed 4.63 times
We are delighted to share that Keynote has successfully completed the IPO of Steel City Securities Limited (Steel City), on the SME Platform of NSE EMERGE. Keynote acted as the sole Lead Manager to the IPO.
Highlights of the Transaction:
IPO received excellent response from investors across categories and was oversubscribed ~4.63x.
Although this was an SME IPO, it garnered an excellent response from the Retail and Non- retail categories of Investors with total 7912 applications. IPO received subscriptions of ~6.51x from Retail applicants and subscription of ~3.12x from HNI applicants (spread amongst 321 applications).
Keynote was the Underwriter and is the Market maker, besides being the Merchant Banker.
About Steel City
Steel City is an ISO 9001: 2008 certified dividend paying Company established for over 20 years. One of the leading stock broking and e-governance service Company having pan India presence, covering 500+ cities in 30 states. It employs over 500 people.
Promoted by dynamic personalities each having experience in capital markets for more than two decades.
Has a diversified business portfolio, covering:

Capital Market Services (Equity Broking, Commodity Trading & Depository)
E-Governance services
Distribution of Mutual Funds Insurance and other financial products.

Has a foot print of 1200+ locations including 72 branches with 1600+ terminal licenses being connected to the Central Location, providing capital market services and has serviced 2,00,000+ clients in Equity, Commodities, Currency and Depository segment.
Forayed in e-governance business in September 2014 and has established 1500+ centres across India for e-governance and has serviced 6,00,000+ customers under Tin-FC & AADHAAR together.
About Keynote:
Keynote is a full service Investment Banking Group focused on mid-market companies in India. Since its inception in 1993, Keynote has remained committed to offering quality Investment Banking solutions combined with integrity and creativity. With services that enable clients to access Capital Markets, Corporate Finance, Mergers and Acquisitions Advisory, ESOP Advisory, Equity/Debt Placements and Restructuring, Keynote has emerged as a exclusive boutique for mid market companies in India. Its philosophy of developing relationships as the Trusted Advisor and Banker to mid market companies is once again demonstrated in the IPO transaction of Steel City.