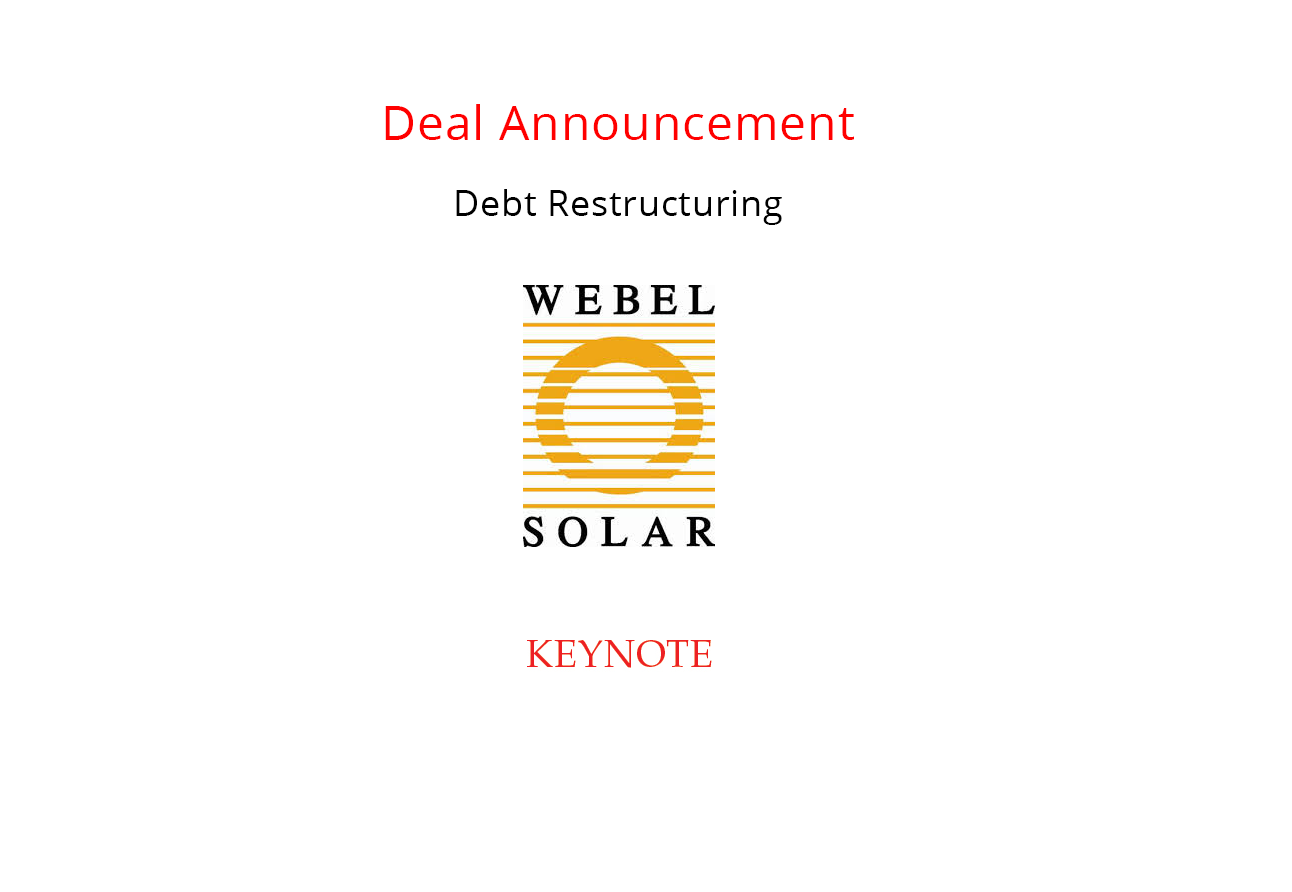 Deal Announcement: Debt Restructuring of Websol Energy System Limited
We are delighted to share that Keynote has successfully completed the  Debt Restructuring for Websol Energy System Limited (Websol). Keynote acted as the Sole Financial Advisor for the Debt Restructuring which included restructuring of Foreign Currency Convertible Bonds (FCCB) and One-Time Settlement (OTS) with Banks.
Highlights of the Transaction:
FCCB Restructuring: Successfully negotiated with the Bondholders to restructure the Bonds for markdown of Principal Value, extension of Tenor and reset of Conversion Price

Successfully led the negotiation with Bondholders achieving 30% markdown in




Principal Value and 58% in accrued value of Bonds

Facilitated compliance with Reserve Bank of India to regularize the terms of the Bonds

Extended the maturity period upto 2021, achieving a total maturity of about 14 years

FCCB conversion price reset to INR 62/- per share

Re-instated listing of the Bonds on Singapore Stock Exchange

Debt Settlement –

Assisted Websol in OTS of Debt and restructuring with various banks.
About Websol
Incorporated in 1990, Websol is amongst the largest manufacturer of

photovoltaic multicrystalline solar cells & modules in India.

Promoted by Sohanlal Agarwal, a visionary entrepreneur and an industry veteran, Websol has a legacy of over two decades and has established a reputation of making highly reliable photovoltaic cells & modules for various domestic, commercial and industrial applications.

The Company has a state-of-the art manufacturing facility at Falta, West Bengal, with an installed cell capacity of 200 MW and module capacity of 90 MW.

The company has ISO 9001:2008, ISO 14001:2004 certifications for all its production processes and also OHSAS 18001:2007 – Hygiene and Labor Safety Systems Certification. Websol's products are approved as per IEC 61215, IEC 61730 and UL 1703 standards as well as FM requirements by various reputed institutes like Underwriters laboratories Inc,




TUV Rheinland, Germany, EuroTest Laboratori S.R.l Italy and CSA International Canada.

Websol is listed on BSE and NSE with a market capitalization of INR 1,250 mn.
About Keynote
Keynote is a full service Investment Banking Group focused on mid-market companies in India. Since its inception in 1993, Keynote has remained committed to offering quality Investment Banking solutions combined with integrity and creativity. With services that enable clients to access Capital Markets, Corporate Finance, Mergers and Acquisitions Advisory, ESOP Advisory, Equity/Debt Placements and Restructuring, Keynote has emerged as an exclusive boutique for mid market companies in India. Its philosophy of developing relationships as the Trusted Advisor and Banker to mid market companies is once again demonstrated in the Debt Restructuring transaction of Websol.